THE SPECIALISED STAMP CATALOGUE OF
THE FALKLAND ISLANDS AND DEPENDENCIES
INCLUDING POSTAL HISTORY AND CANCELLATIONS
1800 - 2013
with BRITISH ANTARCTIC TERRITORY
and also PAPER MONEY, COINS and TELEPHONE CARDS
by Stefan Falkland HEIJTZ
SIXTH EDITION - IN FULL COLOUR - RELEASE DATE 20 FEBRUARY 2013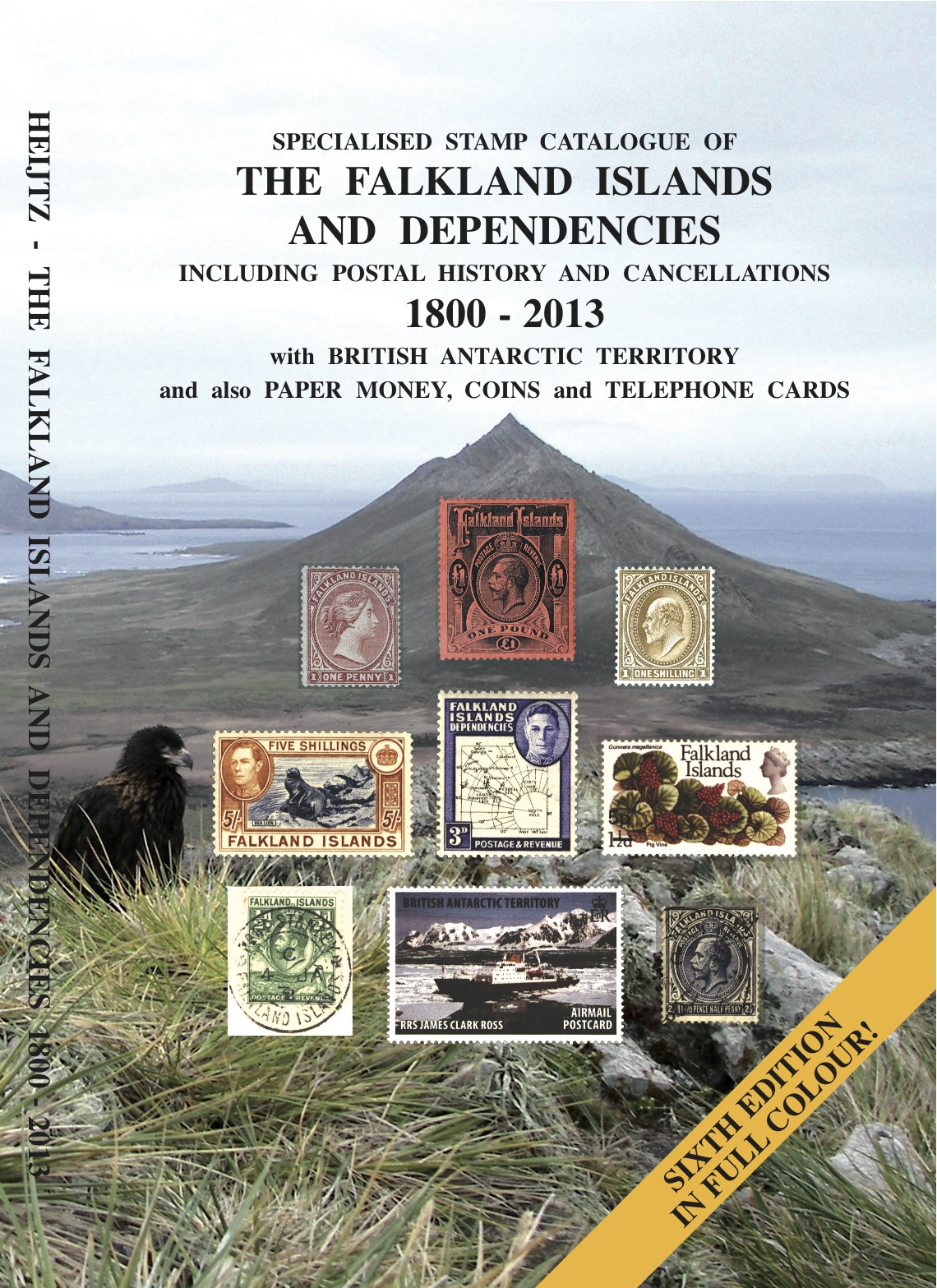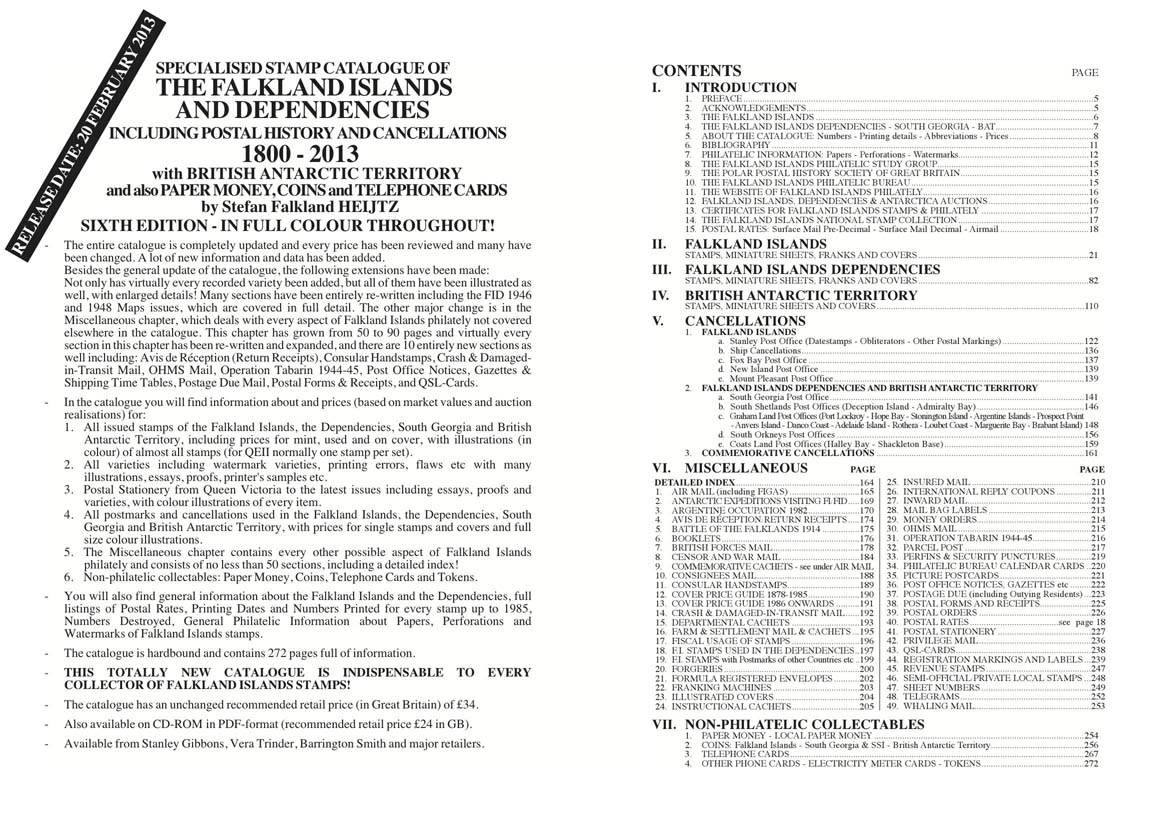 This is the most comprehensive stamp catalogue of Falkland Islands stamps ever produced. In the catalogue you will find information about and prices (based on market values and auction realisations) for:
All issued stamps of the Falkland Islands, the Dependencies, South Georgia and British Antarctic Territory, including prices for mint, used and on cover, with illustrations of most stamps.
All major varieties including watermark varieties, printing errors, flaws etc with many illustrations, essays, proofs, printer's samples etc.
Postal Stationery from Queen Victoria to the latest issues including essays, proofs and varieties, with illustrations of every item.
All postmarks and cancellations used in the Falkland Islands, the Dependencies, South Georgia and British Antarctic Territory, with prices for single stamps and covers and full size illustrations.
The Miscellaneous chapter contains every other possible aspect of Falkland Islands philately in 50 sections.
Non-philatelic collectables: Paper Money, Coins, Telephone Cards and Tokens.
You will also find general information about the Falkland Islands and the Dependencies, full listings of Postal Rates, Printing Dates and Numbers Printed of every stamp up to 1985, Numbers Destroyed, General Philatelic Information about Papers, Perforations and Watermarks of Falkland Islands stamps.
SPECIAL FEATURES OF THE SIXTH EDITION: 25 years after the first edition of this catalogue was published in 1988, and seven years after the fifth edition, this new catalogue brings in a new dimension, since we are now into the first inter-active edition, where readers are referred to websites and online guides for even deeper knowledge!
The obvious difference between this edition and the previous one is the major work that has been done by not only adding virtually every recorded variety, but also by illustrating them all with enlarged details! Many sections have been entirely re-written including the FID 1946 and 1948 Maps issues, which are covered in full detail. The other major change is in the Miscellaneous chapter, which deals with every aspect of Falkland Islands philately not covered elsewhere in the catalogue. This chapter has grown from 50 to 90 pages and virtually every section in this chapter has been re-written and expanded, and there are 10 entirely new sections as well including: Avis de Réception (Return Receipts), Consular Handstamps, Crash & Damaged-in-Transit Mail, OHMS Mail, Operation Tabarin 1944-45, Post Office Notices, Gazettes & Shipping Time Tables, Postage Due Mail, Postal Forms & Receipts, and QSL-Cards.
The number of pages in the catalogue is unchanged, and this has been possible by compressing the listing of stamps issued after 1985, but this listing is still complete and every issue has one stamp illustrated.
Naturally everything else in the catalogue is entirely updated as well, including prices and data. An unbelievable amount of new information throughout the entire catalogue has also been added. There is probably not one single page which hasn't been changed compared to the fifth edition, and many pages have been completely re-written!
SUMMARY OF THE MAJOR CHANGES BETWEEN THE FIFTH AND SIXTH EDITIONS:
Virtually every recorded variety has been added, and illustrated with enlarged details.
The FID 1946 and 1948 Maps issues section has been rewritten with all flaws listed.
The Miscellaneous chapter has had a major re-organization with virtually every section rewritten and added to, and with almost 20 new sections added:
Airmail - expanded from 2 to 4 pages
Argentine Occupation 1982 - expanded from 2 to 4 pages, including a full list of postal rates used
Avis de Reception - new section
Censor Mail - expanded from 1.5 to 4 pages
Consular Handstamps - new section
Crash Mail - new section
Departmental Cachets- expanded from 0.5 to 2 pages
Farm Mail & Cachets- expanded and extended
Illustrated Covers - new section
Insured mail - expanded with all insurance fees listed
International Reply Coupons - expanded
Mail Bag Labels - expanded
Money Orders - expanded
OHMS Mail - new section
Operation Tabarin - new section
Parcel Post - expanded from 0.5 to 2 pages, with a full list of parcel rates used, and a listing of parcel post labels
Perfins - expanded and extended
Post Office Notices etc - new section
Postage Due - expanded and extended from 0.5 to 2 pages
Postal Forms & Receipts - new section
QSL-Cards - new section
Registration Markings and labels - expanded from 2 to 8 pages, including a full listing of all registration labels
Revenue Stamps - expanded
Sheet Numbers - expanded and extended from 0.5 to 3 pages, with a listing of all FI issues to 1980 with sheet numbers
THIS CATALOGUE IS INDISPENSABLE TO EVERY COLLECTOR OF FALKLAND ISLANDS STAMPS.
The catalogue, which is hardbound and contains 272 pages full of information, has a recommended retail price (in Great Britain) of £34.
It is also available on CD-ROM in PDF format. Recommended retail price (in Great Britain) £24.
The CD-ROM may not be available from all the distributors listed below. It can be ordered directly from Stefan Heijtz and the shipping cost is £2 world wide by airmail. Payments can be made by £-cheques, PayPal, or cash. See my homepage for contact details.
Available from:
ENGLAND:
- Stanley Gibbons Ltd, 399 Strand, London WC2R 0LX, England, Tel: 0207-836 8444, or 7 Parkside, Ringwood, Hampshire BH24 3SH, England, Tel: 01425-472 363
e-mail: kfinney@stanleygibbons.com, website: www.stanleygibbons.com
- Vera Trinder Ltd, 38 Bedford Street, Strand, London WC2E 9EU, England, Tel: 0207-257 9940, Fax: 0207-836 0873
e-mail: vtrinder@aol.com, website: www.veratrinder.org
- Barrington Smith, Cross Street, Oadby, Leicester LE2 4DD, England, Tel: 0870-9503810, Fax: 0870-9503836,
e-mail: info@barringtonsmith.co.uk, website: www.barringtonsmith.co.uk
- and all major retailers
US DISTRIBUTOR: RegencySuperior, 229 N. Euclid Avenue, PO Box 8277, St Louis MO 63156-8277, USA, Tel: 314-361 5699, Fax: 314-361 5677
e-mail : sg@regencysuperior.com, website: www.regencysuperior.com
CANADIAN DISTRIBUTOR: Ian Kimmerly Stamps, 62 Sparks Street, Ottawa, Ontario K1P 5A8, Canada, Tel: 613-235 9119, Fax: 613-235 9504
e-mail : kimmerly@iankimmerly.com, website: www.iankimmerly.com
AUSTRALASIAN DISTRIBUTOR: Peter Cranwell, Bookseller, PO Box 620, Rosanna, Victoria 3084, Australia
Tel: +61-3-9459 6720, Fax: +61-3-9459 8887, e-mail: pcranwell@optusnet.com.au, website: www.petespolarplace.com
ARGENTINE & SOUTH AMERICAN DISTRIBUTOR: Filatelia Kevorkian, Maipú 466, Local 10&12, (1006) Buenos Aires, Argentina, Tel.: +54-11-4322 4202, e-mail: stamps@filateliakevorkian.com.ar, website: www. filateliakevorkian.com.ar
FALKLAND ISLANDS: Philatelic Bureau, Stanley, Tel: +500-27159, Fax: +500-27160, e-mail: philatelicbureau@townhall.gov.fk, website: www.falklandstamps.com
MAINLAND EUROPE: Order from one of the British distributors.
SCANDINAVIA: Order directly from me.
A few sample pages can be seen here: Sample 1 Sample 2 Sample 3 Sample 4
Back to Stefan Heijtz' Homepage.