FALKLAND ISLANDS AND DEPENDENCIES
+ ANTARCTICA STAMP AUCTIONS
These auctions are arranged once a year and contain more than 500 lots of stamps, postal history, postmarks etc from the Falkland Islands, the Dependencies, British Antarctic Territory as well as some St Helena, Ascension and Tristan da Cunha. There is always an interesting section of expedition items from Antarctic Expeditions from the early part of the 20th century onwards.The auctions do not normally include straight forward mint or used stamps but emphasize all aspects of postal history.
Consignments of interesting items are always welcome, whether only a few odd covers or a comprehensive collection formed during a number of years. The commission charged is 15% of the total realisation with no other charges. Please contact me before you send any material. Please return to my homepage for all my address details.
If you would like to have the auction catalogue please contact me. You will find all my address details on my homepage.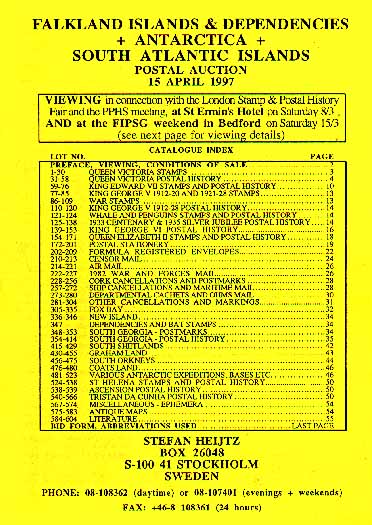 A few sample pages from a previous auction can be seen here: Sample 1 Sample 2 Sample 3 Sample 4
Back to Stefan Heijtz' Homepage.