PLASTFICKOR OCH ALBUM FÖR UTSTÄLLNINGS-SAMLINGAR -
PLASTIC SLEEVES AND ALBUMS FOR EXHIBITION COLLECTIONS

(see below for English description and price list)

NYHET: A3-fickor i samma höga plastkvalitet har nu producerats, öppna på en långsida. Pris 19:- / styck.

NYHET: Nu finns även blå pärmar och kassetter som lagervara. Samma pris som de bruna (se nedan).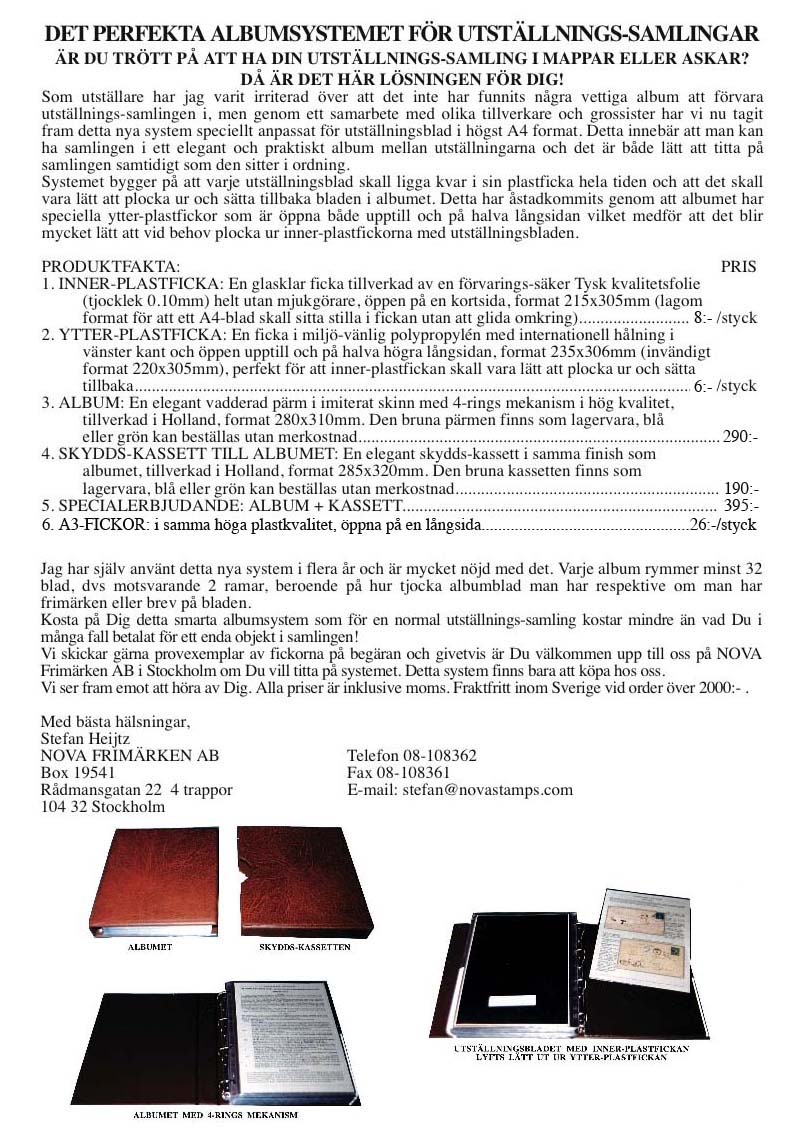 1. Plastic sleeve for exhibition pages. A clear sleeve in archive safe German quality foil, free from softener, 0.10mm thick, size 215x305mm. Price SEK 6
2. Album sleeve in poly-propylene 235x306mm open on one and a half sides, perfect in size to fit the exhibition page sleeve. Price SEK 5
3. Album with 4 rings, elegant and padded, size 280x310mm, colour brown. Price SEK 190
4. Cassette for the album, size 285x320mm, colour brown. Price SEK 150
5. Special offer: Album + cassette. Price SEK 290

6. A3 sleeves in the same high quality have now been produced, open on one long side. Price SEK 19

7. Blue albums and cassettes are now also in stock. Prices are the same as for brown ones (see above).
All prices include Swedish VAT. Freight costs will be added.
Contact details:
E-mail address: stefan@novastamps.com
Postal address: NOVA Stamps AB, Box 19541, S-104 32 Stockholm, Sweden
Street address: Rådmansgatan 22, 4th floor (at Birger Jarlsgatan)
Phone: +46-8108362
Fax: +46-8108361
Åter till vår hemsida.